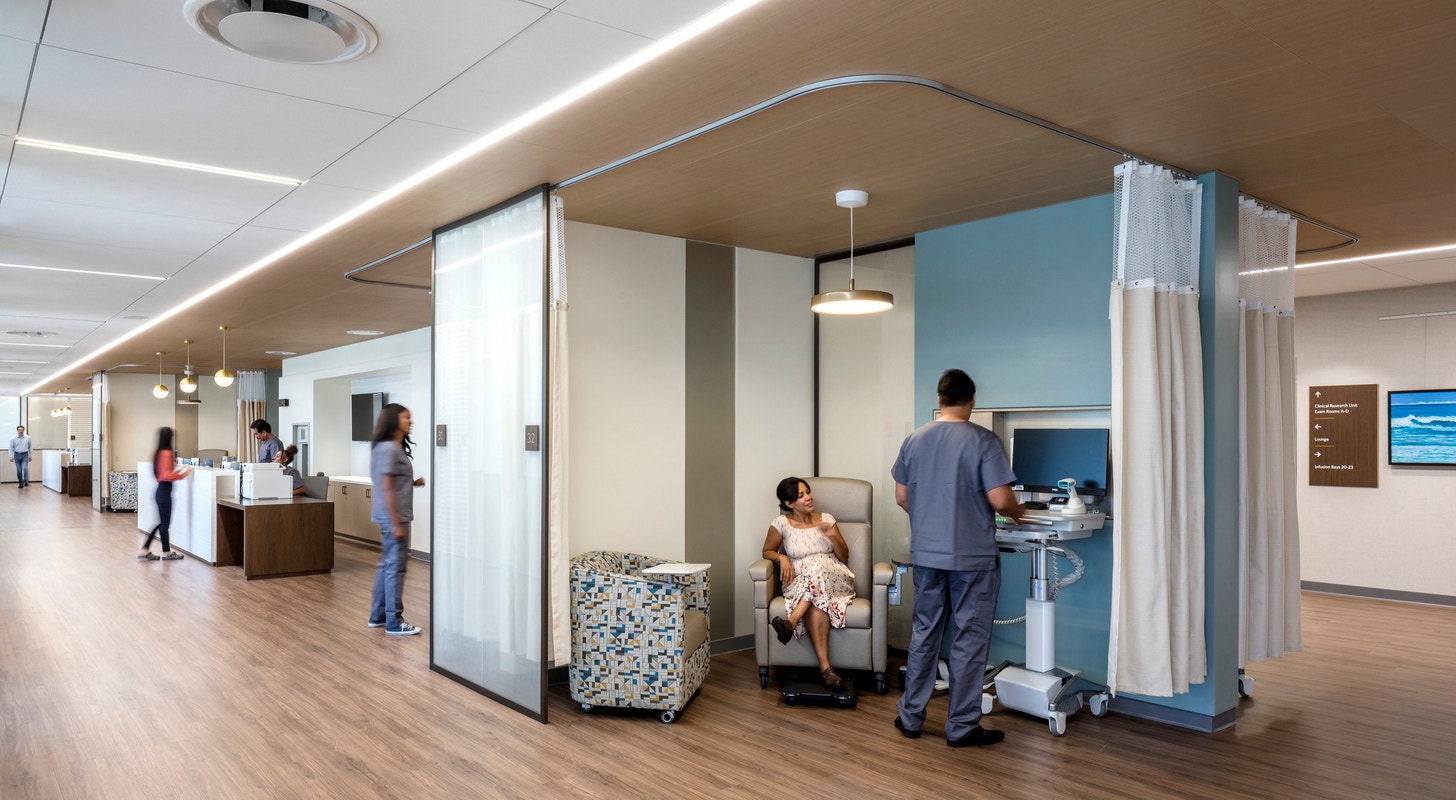 Healthcare real estate investment reached an all-time high in 2022 at nearly $25 billion, with medical office building transactions representing 58% of the total healthcare activity last year, according to JLL. 
Real estate investment trusts (REITs), despite rising interest rates, expanded their healthcare sector holdings to 13% with the hope that market valuations and the number of transactions will continue to improve through 2023. 
Another glimmer of optimism is coming with recent transitions of empty office space — not to residential but to medical facilities. According to CoStar Group, nearly 13% of office space is currently vacant in the U.S., but conversions to apartments in many cities have proven to be either architecturally impossible or cost-prohibitive. And while many medical facilities have their own specific space and use requirements, which may need to be more adaptable to office conversions in some cases, some new examples of transitions work. 
WellSpace Health in Sacramento, California, is converting an abandoned office space on 13 acres into a large wellness campus to include medical, dental and behavioral health services. The space is currently surrounded by barbed wire, has boarded-up windows and is tagged by graffiti, according to KCRA 3 TV. 
Don't miss:
A model example of office space conversion to medical can be found in Irvine, California, where empty office space once leased by Broadcom Inc. has been turned into a facility that can only be referred to as stunning. 
Located on 11 acres at Irvine's Five Point Gateway Campus, ZGF Architects and Lennar Foundation Cancer Center have converted the former Broadcom space into an outpatient cancer clinic called City of Hope. Built to provide "a highly flexible and adaptable environment that's patient- and family-centric," the ZGF design "maximizes the use of lean principles and promotes healing through biophilic design," according to the architectural firm. 
"There's been a lot of attention in the healthcare world looking at big-box retail and other empty spaces for conversions. In this specific case, we have a client, City of Hope, where we were able to bring their cancer treatment center closer to their patients," ZGF interior design specialist James Woolum said.
Woolum added that the project was complicated because it began during the COVID-19 outbreak but might not have happened at all without adapting the Broadcom office space.  
"We didn't see the pandemic coming and this was designed during that period," Woolum said. "I have no doubt that if we demolished the building, it would have been greatly delayed because of supply chain issues, etc."   
Medical planner Janet Pangman, who designs medical facilities for ZGF, told Benzinga the City of Hope project was one of the most complex the firm had undertaken in an existing office space location. 
"It was probably the biggest challenge we've had to put a program in a fixed square footage location," she said. "Speed to market was important for the client, and having an existing building to adapt was important to them."  
The City of Hope facility is a nonprofit cancer center built to respond to the needs of Orange County's patient population and hopes to redefine the delivery of advanced cancer research treatments while bringing its resources directly into communities where patients live.
And while Woolum and Pangman hope the City of Hope development can be an office model and retail to medical conversation, they also know not all buildings are adaptable. 
"This building was all glass and it enabled us to bring natural light into the facility.  A lot of properties don't have a lot of windows, and I can't imagine what it would take to transform them into a cancer center," said Pangman. "If I'm a healthcare facility and looking at properties, I also really hope they would include the architect early in the process because we have a different perspective than the healthcare client and the real estate agent.   
Photo provided by ZGF Architects
Over the past five years, private market real estate investments have outperformed the publicly traded REIT market by about 50%. Check out Benzinga's Real Estate Offering Screener to discover the latest passive real estate investments.
Check Out More on Real Estate from Benzinga