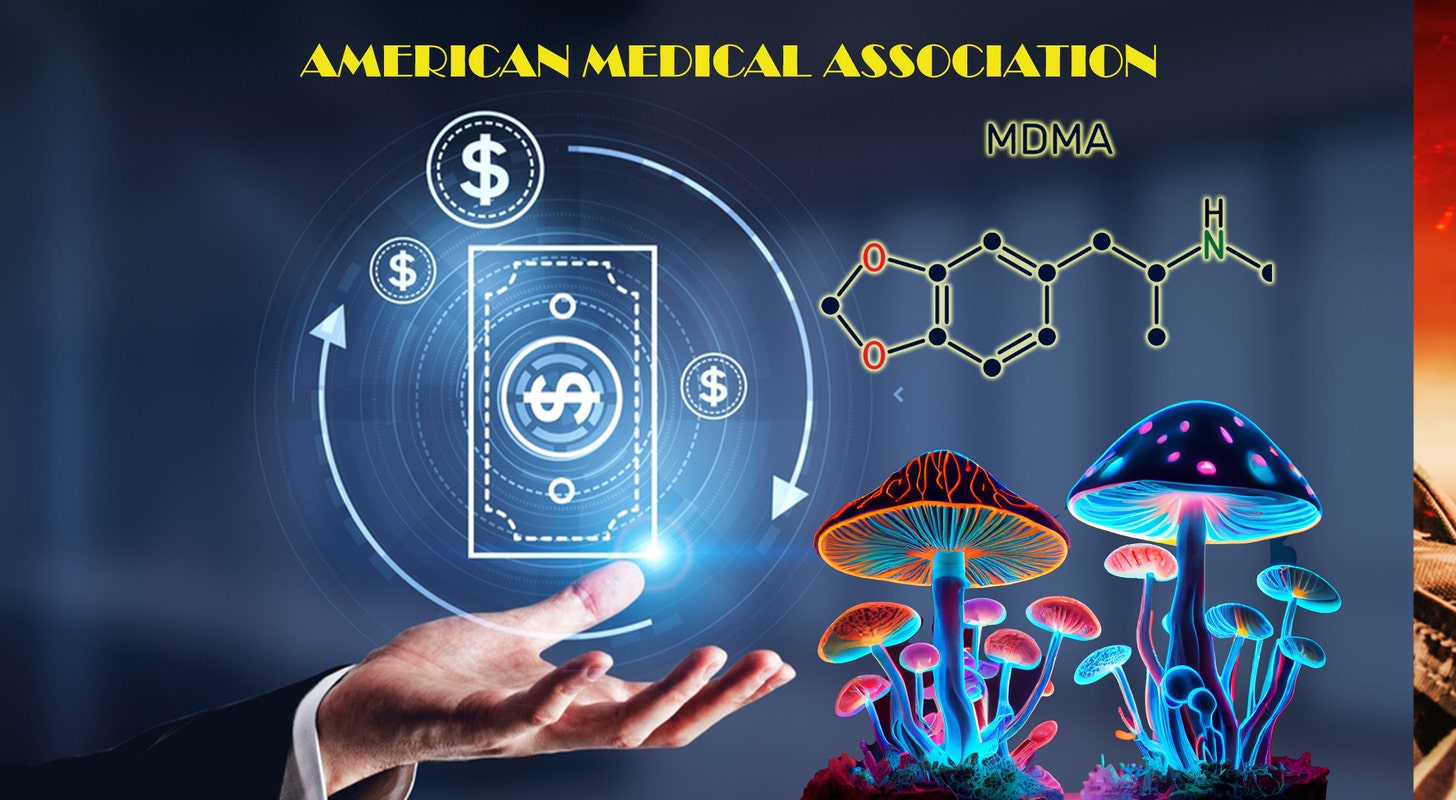 The American Medical Association (AMA) is expected to issue the first code for psychedelic therapy reimbursement, following Tuesday's approval of a joint application submitted by MAPS PBC and COMPASS Pathways CMPS. 
On March 3, the AMA published its Panel Actions summary which included the acceptance of the new Current Procedural Terminology (CPT) III code. 
These types of codes are temporary and allotted to emerging technologies, services and procedures aimed at data collection to substantiate more widespread usage or to provide documentation for Food and Drug Administration (FDA) approval process. 
The application, "Continuous In-Person Monitoring and Intervention during Psychedelic Medication Therapy," was a collaboration between both companies, which are leading research efforts currently in the final stages prior to applying with the FDA.
COMPASS is conducting an unprecedented 900-participant Phase 3 program of synthetic psilocybin COMP360 therapy for Treatment-Resistant Depression (TRD), while MAPS PBC has completed two Phase 3 clinical trials assessing MDMA therapy for PTSD with successful results. 
COMP360 and MAPS' MDMA treatment have been designated Breakthrough Therapies by the FDA. While MAPS will file with the agency sometime this year, COMPASS would present the first Phase 3 topline results in summer 2024 and full topline results by mid-2025, after which an estimated 18 to 24 months before applying.
As of Jan. 1, 2024, the CPT III code for psychedelic therapies will become effective and provide qualified healthcare professionals a means to code and seek reimbursement for the delivery of the FDA-approved medicines.
COMPASS CEO and healthcare industry expert Kabir Nath says CPT codes do not confer any type of patent or exclusivity but rather focus on access. 
"The code is not for the drug, but for the time a provider spends with the patient, however much time that is," Nath told Benzinga.
Meaning no specific therapeutic protocol or products will need to be utilized in order to apply for reimbursement. 
For example, while the approval of psilocybin is expected sometime after 2025, the new code would make the common language available for those providing psychological support within trials to perform their tasks with that in mind, gaining prior training.
"That was the whole purpose of doing this work early on," Nath said, adding that it was a lesson taken from J&J JNJ whose undoing occurred before esketamine got approved. "It really was about filling a very clear gap in the very complex US system of how benefits get into the history and paid for." 
AMA's former CPT director Michael Beebe says the two parts of psychedelic-assisted therapy -the drug and the assisting healthcare professional- are what makes it "a very different type of treatment paradigm." 
The new code would cover the existent reimbursement gap for psychological support within the administration session, usually 6 to 8 hours long. Accompanying prior and post psychotherapy (aka preparation and integration sessions) would be covered by existing CPT codes.
As reimbursement following the new CPT code will not be mandatory, Beebe told Benzinga it will largely be a question of the payers' willingness to look at the published clinical data and trust that it can be replicated in real-world conditions, keeping in mind that it is directed to patients who have not responded to traditional standard of care and therefore have few remaining alternatives. 
Beebe said both public and commercial payers will be able to decide for themselves whether they want to cover these codes and ultimately pay.
"I think it will be interesting to see how payers react to it. New technologies are often difficult for them to deal with," Beebe said. "They want to see a whole pile of clinical data and be certain that the benefit for the patient is long term, not just transitory but durable."
Photo: Benzinga edit with photo by Kateryna Kon, Bacsica and ImageFlow on Shutterstock.