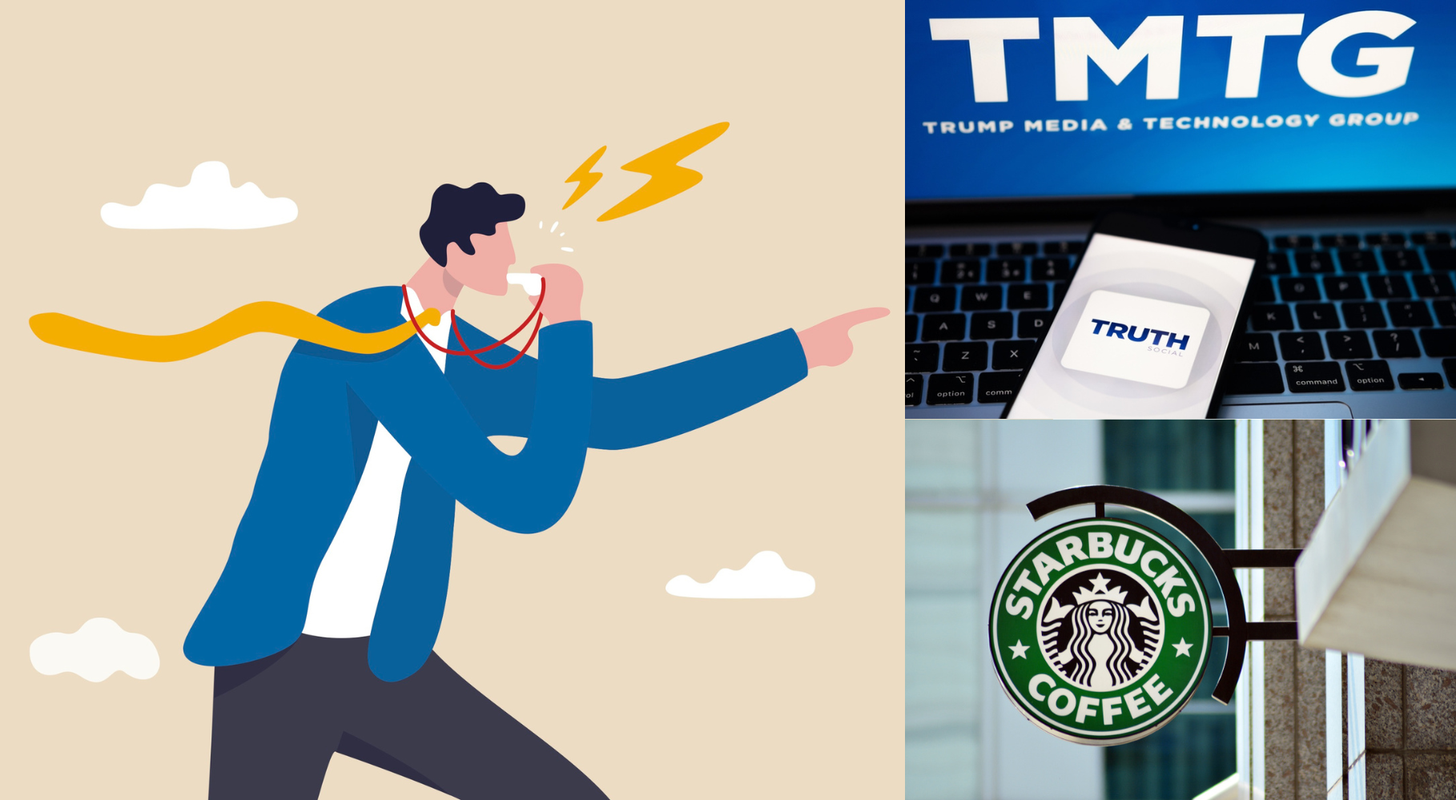 A former employee of Trump Media & Technology Group filed a whistleblower complaint with the SEC back in August 2022. A new interview with the whistleblower revealed why he did it and what he was up to now.
What Happened: Former Trump Media & Technology Group employee Will Wilkerson was fired in 2022 after revealing a whistleblower complaint filed with the SEC to the Washington Post.
Wilkerson worked as one of the first employees of Trump Media & Technology Group, the owner of the Truth Social platform that is popular as the home of the thoughts and opinions of former President Donald Trump.
Trump & Media Technology Group announced a SPAC merger with Digital World Acquisition Corporation DWAC in 2021. Wilkerson's complaint showed Trump Media & Technology Group raised money in fraudulent ways through the SPAC merger.
Wilkerson worked his way up to the role of executive vice president of operations of Trump Media & Technology Group and landed stock options that could have turned him into a millionaire, according to the Washington Post.
Attorneys said Wilkerson provided 150,000 emails, documents and contracts to the SEC that helped with its investigation.
Speaking to the Washington Post last year, Wilkerson said he could no longer remain silent after seeing violations of securities laws being done at the company he worked for.
Wilkerson also recalled his time working in close quarters to Trump.
"One day, you know, he would be in a very, very happy mood. The next day he would read something in the paper and just yell, just be livid. That's who we were dealing with."
On Truth Social, Wilkerson was mentioned in comments and memes as a Judas-like traitor according to the report. Wilkerson admitted he sometimes went on Truth Social, where he has 38,000 followers. Wilkerson added that he felt sad about the way things ended.
But, when it came to turning in his former employer and being a whistleblower, Wilkerson had no regrets.
"I made the conscious decision. I knew the risks … especially in regard to retaliation. But I don't think I could have sat back and stayed quiet, even if I was compensated handsomely for doing so."
Wilkerson said he's not going away.
"Ultimately, you know, I just want to do what's right."
Related Link: Donald Trump Boasts Truth Social Is Seeing Its Biggest Traffic This Month 
Working at Starbucks Now: Wilkerson traded the days of working for a Trump-related company to working at a Starbucks Corp SBUX location inside a Harris Teeter grocery store in a North Carolina town.
"It's an honest day's work. I love what I do," Wilkerson said.
After being fired from Trump Media & Technology Group, Wilkerson sent out hundreds of job applications with many centered on the technology or radio sector. Wilkerson applied at Starbucks in December 2022 and heard back a day later.
Wilkerson believed his past barista experience at Whole Foods, which was listed on his resume, was what helped him land the job.
The report said Wilkerson was a certified barista trainer at Starbucks and made $16 an hour.
Despite being a name that could bring down part of a former president's empire, Wilkerson was not well-known at Starbucks.
Only his direct supervisor, who Wilkerson called "a very sweet lady," was aware of Wilkerson's situation. The former whistleblower said his supervisor didn't "really understand the legal system in the United States."
"Obviously, I don't shout from the rooftops here about my past history and my whistleblower status," Wilkerson said.
When asked by a reporter, the supervisor described Wilkerson as "nice" and "calm" and said he has seen his customer service ratings go up since starting.
After a reporter from the Washington Post took pictures of Wilkerson at work, many co-workers began Googling him and found out who he was. He said many congratulated him.
At this Starbucks location, Wilkerson said he worked alongside mostly high school students. Unlike working with Trump, Wilkerson said his co-workers weren't often yelling.
Wilkerson liked the elements of his job where he got to talk to nice people.
"I'm proud of what I do, no matter what it is. Nothing's beneath me."
Turning in his former employer, Wilkerson might have forfeited millions of dollars thanks to his stock options. One potential light at the end of the tunnel is the potential to make millions of dollars as part of the SEC's whistleblower reward program, which Wilkerson would be eligible for depending on penalties.
DWAC Price Action: Hurt by ongoing investigations by the SEC and other parties, the SPAC merger had been delayed multiple times and shares of the SPAC seeking a merger with the Trump media company had fallen drastically.
Digital World Acquisition shares trade at $12.99 versus a 52-week range of $12.34 to $49.75. Shares are down 73% in the last year.
Read Next: Here's How Much Donald Trump Made From NFTs, Truth Social And Other Business Ventures 
Photo: Shutterstock